THE PERFECT BRUNETTE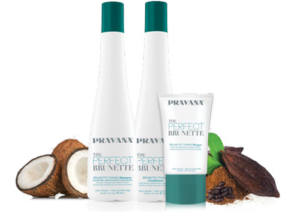 BLUE-GREEN TONING REGIMEN FOR BRUNETTE HAIR
The Perfect Brunette, created by PRAVANA, makers of the nation's fastest-growing professional hair color brand. Pravana Perfect Brunette Color Care and Styling products are modeled from a commitment of creating innovative beauty solutions. PRAVANA salon professional hair care, therapy and styling products are made of only the highest attributes and formulated to protect and preserve hair color. Because PRAVANA KNOWS color.
The Perfect Brunette range consists of a Shampoo, Conditioner  & Masque
Each product will instantly banishes orange/red tones commonly associated with brunette hair color whilst immediately neutralize the effect of fading and residual oxidation with first-ever, blue-green brunette toning system. The Perfect Brunette by Pravana restores and protects with sulfate-free formula enriched with vegan proteins & essential nutrients
Leave a Comment
Your feedback is valuable for us. Your email will not be published.