NEVO RANGE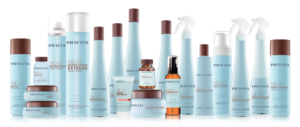 Created by PRAVANA, makers of the nation's fastest-growing professional hair color brand, NEVO Super-Natural Color Care and Styling products are modeled from a commitment of creating innovative beauty solutions. PRAVANA salon professional hair care, therapy and styling products are made of only the highest attributes and formulated to protect and preserve hair
color. Because PRAVANA KNOWS color.
NEVO features ingredients originally rooted in the Amazon jungle and that have never before been used in hair care, such as Mulatiero Extract, Babassu and Brazilian Nut Oils. These exotic oils, in combination with pure, hydrolyzed Quinoa, Soy Protein and an abundance of antioxidants, make up the exclusive Drops of the Amazon found in PRAVANA's NEVO products, providing gentle protection and sustainment of hair color, while delivering nourishment and long-lasting inner strength to hair.

A natural and clean approach to beauty with 100% biodegradable packaging and ingredients that are 100% vegan, gluten-free and toxin-free.
In the spirit of giving, for every sale of NEVO, 5% is donated back to City of Hope to support treatment and education for the fight against cancer. This funding has led to breakthrough research and other cancer-treating therapies that have helped many across the globe. PRAVANA believes in the hope for a cure!

Leave a Comment
Your feedback is valuable for us. Your email will not be published.