PRAVANA CHROMASILK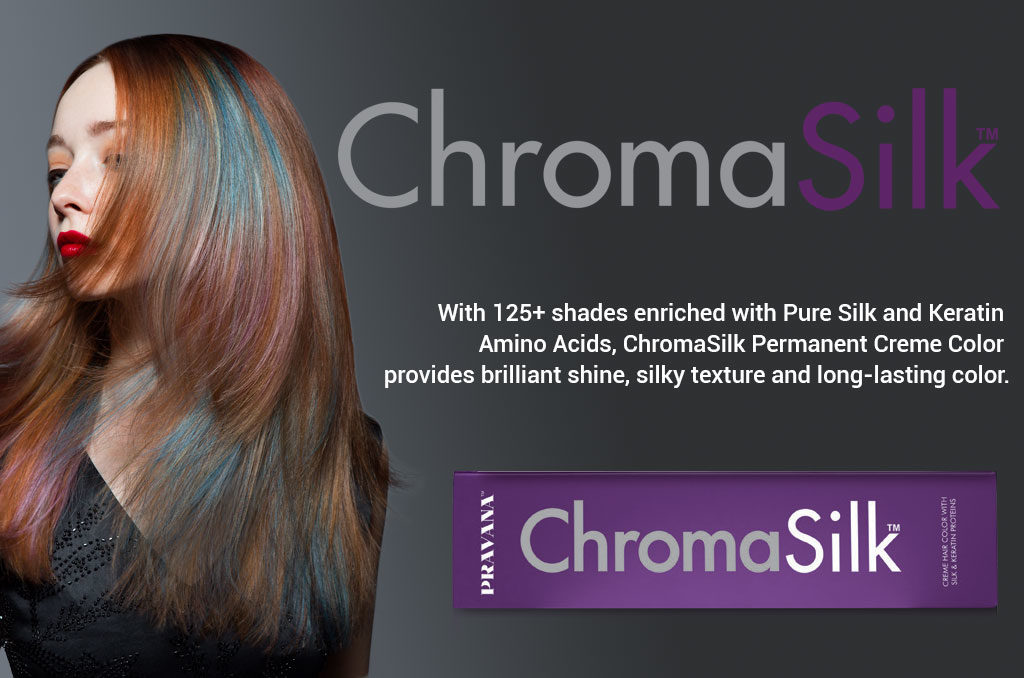 PRESTIGE COLOR WITHOUT THE PRESTIGE PRICE!
ChromaSilk is the greatest value in professional hair color.
EDUCATION
Ongoing classes available for salon professionals.
FREE ONLINE PROGRAM
Access to FREE online Color Certification Programs.
SIMPLE COLOR CONVERSION GUIDES
For every leading color brand, accessible
on mobile and online at PRAVANA.com.
ACADEMY CLASSES
Learn from special guest artists and celebrity colorists.
Why you will LOVE Pravana ChromaSilk
With 125+ shades enriched with Pure Silk and Keratin Amino Acids, Pravana ChromaSilk Permanent Creme
Color provides brilliant shine, silky texture and long-lasting color. Pravana ChromaSilk's award-winning
formula provides complete gray coverage with rich, vibrant results. Its low ammonia content
preserves the integrity of the hair and allows colors to perform as both permanent and demipermanent
simply by switching to PRAVANA Developer.
ChromaSilk Permanent Creme Hair Color comes in 90ml tubes and is mixed at a 1 : 1¹∕₂ ratio of creme color
to developer (3 oz of color : 4¹∕₂ oz of developer).
For Super Light Blondes, use a 1 : 2 mixing ratio with 30 or 40 volume developers (3 oz of color : 6 oz developer).
Super Light Blondes are intended for use on virgin hair level 6 or lighter.
STYLIST-TO-STYLIST SUPPORT
Call, video chat or email for formulation tips and help.
HOW-TO'S
Celebrity color formulas, trends and campaign looks
broken down on PRAVANA's YouTube channel monthly.
FREE COLOR APP
PRAVANA Color Formulator App makes formulating
color as simple as a swipe of your finger!
Contact Pravana Australia
Leave a Comment
Your feedback is valuable for us. Your email will not be published.