ChromaSilk ColorLush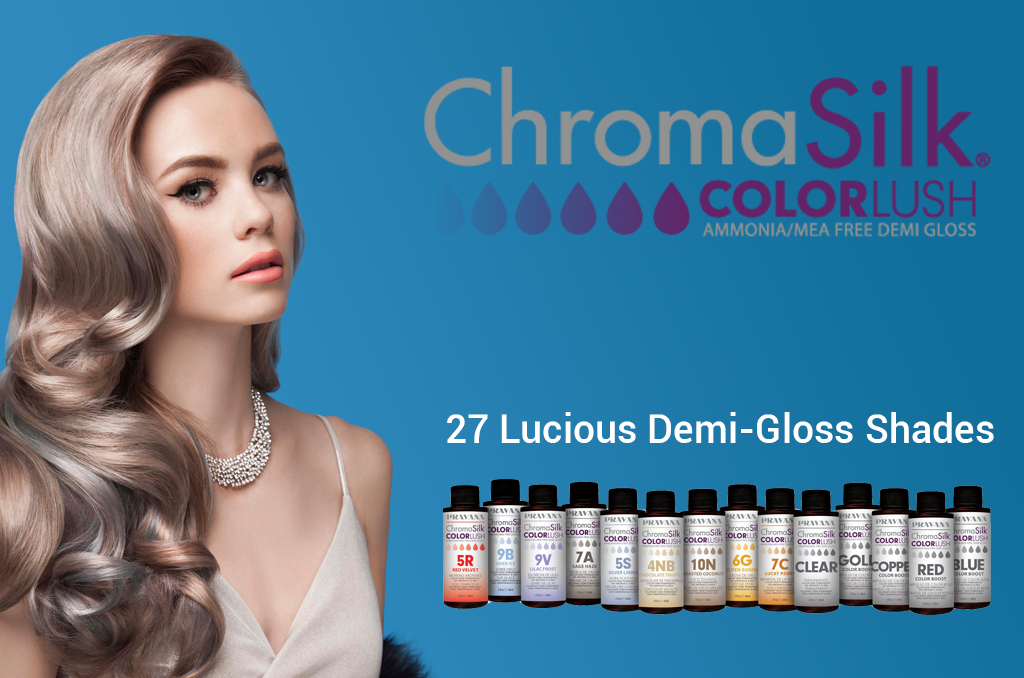 WHEN TO USE COLORLUSH:
• Ammonia-free and MEA-free hair color is desired
• Quick & simple color-refreshing over faded ends
• When the integrity of the hair is compromised
• Tinting hair back to natural
• Coloring between foils
• Client is sensitive to ammonia-based color
• When quicker application & processing is desired
Why you will LOVE ColorLush
ColorLush is the next–generation demi-color that creates the most
beautiful and gentle hair color experience imaginable.
Free of both ammonia and MEA (monoethanolamine), ColorLush creates rich color that incrementally improves the integrity of the hair, leaving it feeling healthier, while imparting glass-like shine
ColorLush's low pH formula, combined with its exclusive Omega-9 Oil Delivery Complex, work synergistically to infuse hair with plush color and nourishment, taking high-shine, multi-dimensional color to an entirely new level.
ColorLush is a true, no-lift, demi-color that provides greater vibrancy and color depth than any other demi-color, while still being beautifully translucent.
Like never before, stylists will be able to unleash their inner artist and easily formulate and conceive mind-blowing color combinations with ColorLush's array of vibrant colors and 5 Color Boosts that enhance, increase and allow hair artists to have complete and total creative control.
ColorLush colors are comprised of both oxidative and direct dyes to deliver perfect, on-level depth and brilliant, dimensional tone. In most cases, Artificial Hair Color Extractor will extract ColorLush shades from the hair. However, in some cases due to the direct dye content, there may be slight remnants of tone left in the hair which should simply be treated like an underlying pigment. Chose to either color over or remove with use of a mild lightener formula
Choose your ColorLush below
Leave a Comment
Your feedback is valuable for us. Your email will not be published.